Monday, November 12, 2012
0
Yojana Magazine

August

2012 Issue
DOWNLOAD
Yojana Magazine July 2012 Issue
Monsoon Prediction
Monsoon Mission
Is India A Monsoon Economy ?
Monsoon Variability, Climate Change And Agriculture
Southwest Monsoon In India And Its Forecasting System
Long Range Forecasting Of Monsoon Rainfall
Health Initiatives In Flood Affected Bihar
Monsoon And Food Inflation
Mobile Spray Painting Device
The Reign Of Rain
Dream Season: The Monsoon
Magic Of Kerala
Stock Exchanges In India
Search For Quality Mithuns
In Northeast'S Mountains.
DOWNLOAD
Yojana Magazine June 2012 Issue
Rethinking policy on child sex ratios
ncw: twenty years of empowering women
Empowering women in agriculture
Empowered women, empowered nation
Women's empowerment across indian states
Some facts about domestic violence act, 2005
Pearl in the sand – tara devi
Amending archaic laws to empower women
DOWNLOAD
Yojana Magazine May 2012 Issue
Do Ecology –Pathway Development and its Environmental Implications
From protests to where in 2012?
Environment , Development and Disaster : The Panchtatva Equilibrium
Wealth in My Backyard
Water-Sanitation Nexus more complex than Toilet -Cell Phone comparison
National Skill Development Corporation
Development and its Environmental Implications
DURBAN Conference : The Road Ahead and Lessons for India
Sustainability in India's Urban Areas :
Need to reframe the Debate
Environmental Management by Pollution Prevention
Measurement of Economic Progress :
Does Traditional GDP Really Add Up?
The Seed Broadcaster
North east diary
DOWNLOAD

Yojana Magazine April 2012 Issue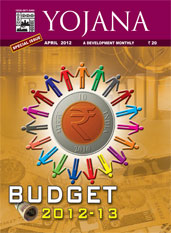 The Union Budget 2012-13 presented by the Finance Minister Mr. Pranab Mukherjee on 16th March 2012 seeks to accomplish the path of rapid, inclusive growth by pursuing five major objectives to be addressed effectively in the ensuing fiscal year.Termed realistic and pragmatic the budget focuses on domestic demand driven growth recovery, create conditions for rapid revival of high growth in private investment, address supply bottleneck in agriculture, energy and transport sectors; address the problem of malnutrition and improve delivery system, governance and transparency, and address the problem of black money and corruption in public life. These objectives are to be met by raising higher revenue through indirect taxes and tapping the services sector in a major way by hiking excise and services tax levy from 10 to 12 percent. Moreover, Government has taken steps to address the issue of black money, and a White Paper on Black Money is proposed to be laid in the current session of Parliament. A series of measures has been proposed to deter generation and use of unaccounted money.

Yojana Magazine March 2012 Issue
Managing Disasters In India
Traditional Values That Helped Ladakhis Rebuild Their Lives
Challenges In Disaster Management
Post Disaster Impact Assessment And Funding Mechanism
Earth System Science Organization
Natural Disaster Management In India
Geo-spatial Techniques And Methods
Climate Change And Disaster Management In Coastal Areas

Yojana Magazine February 2012 Issue
Free Trade Agreements And India
India'S Foreign Trade Scenario
Agricultural Products Exports In India
Suggestions For The Twelfth Plan
Influence Of FDI On Retail Sector
India and World Trade Organization
Challenges In India'S Foreign Trade

Yojana Magazine January 2012 Issue
Towards Rapid, Inclusive And Sustainable Growth
Prospects And Policy Challenges In The Twelfth Plan
Rural Transformation And Sustained Growth Of Agriculture
Corruption And The Twelfth Plan
Infrastructure Investment In The Eleventh Plan And Prospects
Agriculture In The 12th Plan Approach
National Development Council
The Five-Year Plans And Future